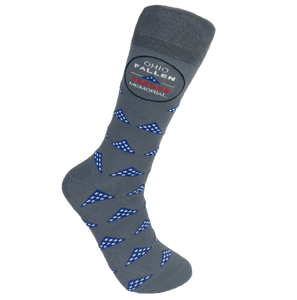 We worked with the Ohio Fallen Hero's Memorial to create a one of a kind custom sock to honor those that made the ultimate sacrifice for their country. 100% of the proceeds of these socks will go directly to the Ohio Fallen Hero's Memorial located in Sunbury, Ohio.
For those unfamiliar with the memorial their goal is to never let people forget the sacrifices made for our freedom and to take care of the families of our fallen heroes now and in the future.
The Ohio Fallen Heroes Memorial was founded and established in 2005 by several local Veterans who had a vision to build a beautiful tribute to all of the men and women in uniform from Ohio that have made the ultimate sacrifice defending our Country in the Global War on Terrorism since September 11, 2001. Thanks to the efforts of countless volunteers, the Village of Sunbury and many financial contributors the memorial became a reality when it was dedicated on June 30, 2007.
Franklin Morrow socks are produced with 80% Combed Cotton, 15% Nylon and 5% Elastane. Each of our socks have reinforced heels and toes for longer lasting more durable socks. These are a one size fits most sock  
For each pair of socks you purchase, we donate a pair to a local homeless shelter.