For every pair of Franklin Morrow socks you purchase, we donate a pair to an individual in need.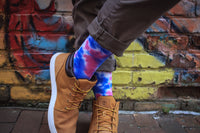 We founded Franklin Morrow with a passion to provide you with a better, more stylish, and longer-lasting sock than what was available on the market. We believe we accomplish this, but for us, it was not enough. We also wanted to find a way to give back to the community. It seemed like a natural fit to donate a pair of socks to an individual in need for each pair of socks you purchase. To date, we have been able to donate over 15,000 pairs of socks to individuals in need all over the world. But we knew we could do more. We partnered with nonprofits all over Ohio to create custom socks with 100% of the proceeds directly supporting those nonprofits. These "Kindness Counts" tie dye socks are from our partnership with Autism Speaks.
BUY YOUR PAIR NOW!
Testimonials
I have been wearing Franklin Morrow socks since they came out two years ago and they quickly became my favorite socks to wear to work. I can wear them with everything and the unique designs are a fun conversation piece. They don't fall down like my other socks and they've held up well to weekly wear. 

Steve M.
Franklin Morrow socks have become a go-to gift for the men in my life! My husband, brother, and dad love sporting the fun designs. I love shopping local, and supporting the philanthropic mission of providing socks to those in need. 

Carol S.
I walk a mile back and forth to work every day, have been for 10 years. Franklin Morrow socks are the only socks that hold up over the long term. I don't even look at other socks anymore.

Danny E.