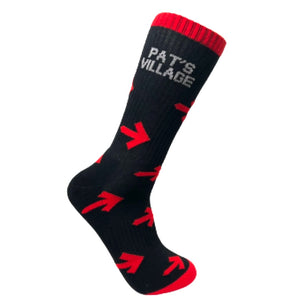 These socks were created in memory of Pat Connor who died 9/5/2021 from a rare and aggressive cancer called Cholangiocarcinoma. He was a man with an infectious personality, always loving and caring for those around him whether friend or stranger. His smile and laugh could instantly change a person's mood from heavy to light. He brought joy beyond his comprehension to those around him and we miss him every single day. We have created a Peloton in his honor called, "Pat's Village" that will be riding in Pelotonia (a bicycle ride to raise money for cancer research). When you purchase these socks you will be donating to the fundraising of those riding this year. Pat left behind a wife, three young kids, and friends and family that are too many to count. Thank you for your support. 

Franklin Morrow socks are produced with 80% Combed Cotton, 15% Nylon and 5% Elastane. Each of our socks have reinforced heels and toes for longer lasting more durable socks. Unisex sizing  
For each pair of socks you purchase, we donate a pair to a local homeless shelter.